Lecture Rescue of the Bounty Disaster and Survival in Superstorm Sandy
July 10
6 p.m. — 7 p.m. Lectures & Book Talks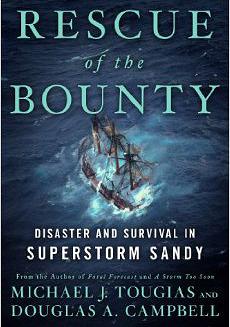 The story begins on October 23, 2012 when Captain Robin Walbridge made the fateful decision to sail the HMS Bounty from New London, Ct to St Petersburg, FL. Aware that a hurricane was forecast to come up the Eastern seaboard, he explained to his crew of 15 that the ship would fare better at sea than at port; a decision that would have fatal consequences.
Michael J Tougias, bestselling author of 23 books, will give a dramatic presentation based on his most recent release, Rescue of the Bounty: Disaster and Survival in Superstorm Sandy. Using images of the storm, the survivors and the rescue, Michael makes this inquiry into the sinking and subsequent rescue an "edge-of-your-seat" visual program. Michael will describe the decisions made, the characteristics of the boat and its design and the experiences of the crew that all contributed to her final fate.
A book signing will follow the program.
Sponsored by: