Ocean Station
August 6
6 p.m. — 7 p.m. Lectures, Films, & Book Talks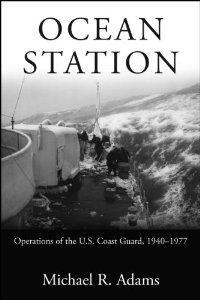 Ocean Station
with Michael R. Adams
U.S. Coast Guard cutters patrolling the far-flung ocean stations were subjected to some of the heaviest weather the seas had to offer. Yet the crews remained on station, making weather observations and providing air navigation, communication and search-and-rescue services. On ocean station, seamanship was survival.
Cdr. Michael Adams, USCG (Ret.) is a master mariner with two decades of Coast Guard service serving aboard the cutters Absecon, Boutwell, Dependable, Midgett and Steadfast and as commanding officer of the cutter Ute. He served on the North Atlantic Ocean Stations Bravo, Charlie, Delta, Echo and Hotel.
A book signing will follow the program.
Members $5, Nonmembers $7